Celebrating Puerto Rican and Uruguayan culture with art, theater, music, and more!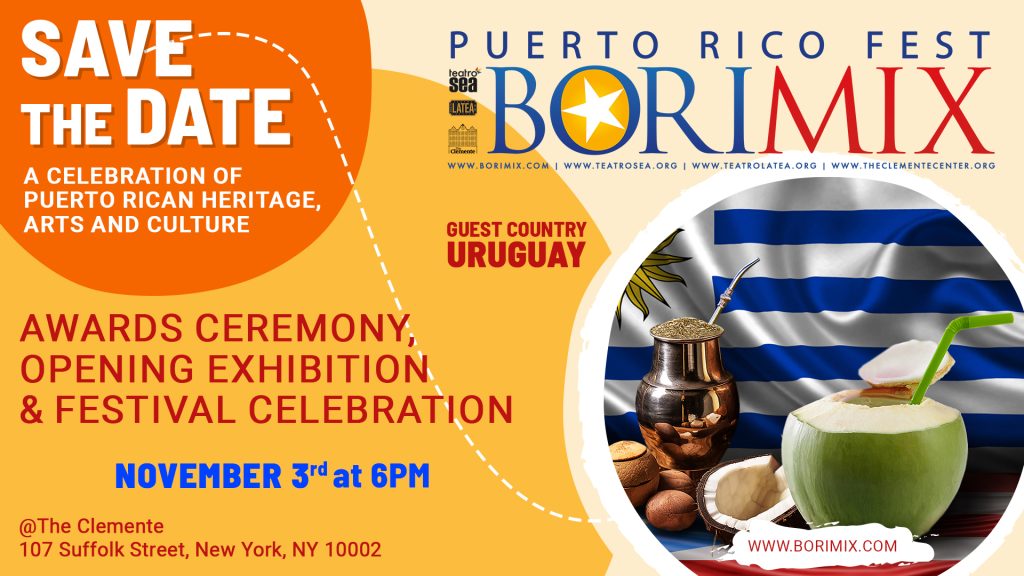 New York, NY (October 13th, 2023) – Teatro SEA, Teatro LATEA, and The Clemente Center take great pride in announcing the arrival of BORIMIX 2023, a month-long celebration dedicated to the vibrant arts, music, and cultures of Puerto Rico and Uruguay. Spanning the entire month of November, BORIMIX 2023 promises an extraordinary fusion of Puerto Rican and Uruguayan talents, offering an incredibly diverse and enriching cultural journey.
This festival will present a captivating array of performances, encompassing theatrical productions, live music concerts, dance exhibitions, and art displays, all of which will grace various venues throughout New York City. Audiences are invited to become fully immersed in the rich traditions, stories, and expressions of both Puerto Rican and Uruguayan heritages.
"We are thrilled to co-produce BORIMIX 2023, bringing together the best of Puerto Rican and Uruguayan art and culture," said Manuel Morán, Founder and Artistic Director at Teatro SEA. "This festival is a testament to the creativity, resilience, and unity of our communities, and we invite everyone to join us in celebrating the vibrant cultural tapestry we share."
BORIMIX 2023 commences its festivities on Tuesday, October 31st, kicking off with a grand opening award ceremony and Latin dance extravaganza on Friday, November 3rd, at 7PM, hosted at The Clemente Center. While many of the BORIMIX events are free to the public, some do require tickets for admission. For details on ticketing and to secure your spot at the opening party, please visit our website.
"BORIMIX is an inspired and inspiring memo to the Latin American community, a love letter from Puerto Rico to all the Republics in our America," says Executive Director Miguel Trelles of Teatro LATEA. "We celebrate the island, the diaspora, the Clemente, and all our Latinx peers from the Caribbean, Central American, and South America working in visual arts, theater, music, and word. We are specifically invested in this year's BORIMIX, because the guest country Uruguay is the birthplace of LATEA/Clemente Founder Nelson Landrieu."
Some highlighted events include:
November 2nd – The "South-American Performance Art" Cycle: a program organized and curated by Argentina Performance Art (APA) at Teatro LATEA. This cycle transcends Argentine borders to enrich the pan american artistic landscape.
November 3rd – BORIMIX Awards Ceremony, Latin Dance Party ft. Las Mariquitas, and opening of gallery "BORI-GUAY: Sur," A group show of Uruguayan and Puerto Rican artists come together and honor , in an unorthodox Borimix way, the remarkable legacy of Joaquín Torres-García and the "Escuela del Sur".
November 4th – Colette Michaan Earth Rebirth CD release concert at Teatro LATEA.
November 9th – 12th – Preserving our Heritage: A Weekend of Community Archiving at CENTRO. This series explores the significance of preserving and documenting the historical memory of diasporic and minority communities. Through multiple educational panels with industry experts and a hands-on workshop, we hope to empower our community and ensure our collective legacies are woven into the tapestry of global heritage.
November 10th-12th – "Tres Flores Trans," a dramatic comedy based on real trans women living in Uruguay presented at Teatro SEA.
November 16th – Cabaret Night: Pablo Zinger & Diana López "TANGOS DEL PLATA" Música de Uruguay y Argentina at Teatro SEA.
November 18th – World Premiere of "RANCHO TALES" presented at Teatro SEA, a playful new theater
November 29th – CAFECITO CON… ESMERALDA SANTIAGO: LAS MADRES. A panel presented at CENTRO
For a list of all events, please click here.
"Centro has been a partner of Borimix for many years providing academic programming that focuses on documenting the Puerto Rican experience in the United States," says CENTRO Deputy Director Angel Antonio Ruiz Laboy. "This year, as we celebrate our 50th anniversary, we are honored to share our archival knowledge with the community to help them preserve individual and community archives, ensuring our stories continue to be told."
BORIMIX 2023 will take place at various venues in New York City, including CENTRO at CUNY Hunter, and The Clemente Center, located in the heart of Manhattan Lower East Side. The festival will offer a range of events suitable for all ages, providing opportunities for individuals and families to engage with the arts and explore the diverse cultural heritage of Puerto Rico and Uruguay.
"BORIMIX 2023 has earned its reputation as one of New York City's recognized Puerto Rican Heritage Month celebrations, with a unique twist that nods at twin cultures from around the world. Our work is to juxtapose different audiences to experience contemporary expression of visual and performance cultures from Puerto Rico this time with the guest country -Uruguay- and their diasporic communities. This edition falls at a particularly critical juncture where we are celebrating our 30 year anniversary and are on the eve of the groundbreaking from a major accessibility and renovation project to benefit all," says The Clemente Center's Executive Director Libertad Guerra.For more information and updates about BORIMIX 2023, please visit https://borimix.com/ or follow us on our social media: @teatrosea, @teatrolatea, @theclemente on all platforms.
---
BORIMIX Festival 2023 regresa en noviembre
¡Celebrando la cultura puertorriqueña y uruguaya con arte, teatro, música y más!
Nueva York, Nueva York (13 de octubre de 2023) – Teatro SEA, Teatro LATEA y el Clemente Center se enorgullecen en anunciar la llegada de BORIMIX 2023, una celebración de un mes dedicada al arte, la música y cultura de Puerto Rico y Uruguay. Durante todo el mes de noviembre, BORIMIX 2023 promete una extraordinaria fusión de talentos puertorriqueños y uruguayos, ofreciendo un viaje cultural increíblemente diverso y enriquecedor.
Este festival presentará una cautivadora variedad de actuaciones, que abarcan producciones teatrales, conciertos de música en vivo, exhibiciones de danza y muestras de arte, todas las cuales adornarán diversos lugares en toda la ciudad de Nueva York. Se invita al público a sumergirse por completo en las ricas tradiciones, historias y expresiones tanto de la herencia puertorriqueña como uruguaya.
"Estamos emocionados de co-producir BORIMIX 2023, reuniendo lo mejor del arte y la cultura puertorriqueña y uruguaya", dijo Manuel Morán, fundador y director artístico de Teatro SEA. "Este festival es un testimonio de la creatividad, la resistencia y la unidad de nuestras comunidades, e invitamos a todos a unirse a nosotros para celebrar el vibrante tapiz cultural que compartimos".
BORIMIX 2023 dará inicio a sus festividades el martes 31 de octubre, con una gran ceremonia de apertura y una extravaganza de baile latino el viernes 3 de noviembre, a las 7PM, en el Clemente Center. Si bien muchos de los eventos de BORIMIX son gratuitos para el público, algunos requieren boletos para ingresar. Para obtener detalles sobre la venta de boletos y asegurar tu lugar en la fiesta de apertura, visita nuestro sitio web en https://borimix.com/.
"BORIMIX es una carta de amor inspirada e inspiradora a la comunidad latinoamericana, una carta de amor desde Puerto Rico hacia todas las Repúblicas de nuestra América", dice el Director Ejecutivo Miguel Trelles de Teatro LATEA. "Celebramos la isla, la diáspora, el Clemente y todos nuestros compañeros latinx del Caribe, Centroamérica y Sudamérica que trabajan en artes visuales, teatro, música y palabra. Estamos especialmente comprometidos con el BORIMIX de este año, porque el país invitado, Uruguay, es el lugar de nacimiento del fundador de LATEA/Clemente, Nelson Landrieu".
Algunos eventos destacados incluyen:
2 de noviembre – Ciclo de Arte Escénico Sudamericano: un programa organizado y curado por el Arte Escénico Argentino (APA) en Teatro LATEA. Este ciclo trasciende las fronteras argentinas para enriquecer el panorama artístico panamericano.
3 de noviembre – Ceremonia de Premios BORIMIX, Fiesta de Baile Latino con Las Mariquitas y apertura de la galería "BORI-GUAY: Sur", una muestra colectiva de artistas uruguayos y puertorriqueños que se unen y honran, de una manera no convencional de Borimix, el notable legado de Joaquín Torres-García y la "Escuela del Sur".
4 de noviembre – Concierto de lanzamiento del CD Colette Michaan Earth Rebirth en Teatro LATEA.
9 al 12 de noviembre – Preservando Nuestro Patrimonio: Un Fin de Semana de Archivado Comunitario en CENTRO. Esta serie explora la importancia de preservar y documentar la memoria histórica de las comunidades diaspóricas y minoritarias. A través de múltiples paneles educativos con expertos de la industria y un taller práctico, esperamos empoderar a nuestra comunidad y asegurar que nuestros legados colectivos se entrelacen en el tapiz del patrimonio global.
10 al 12 de noviembre – "Tres Flores Trans", una comedia dramática basada en mujeres trans reales que viven en Uruguay, presentada en Teatro SEA.
16 de noviembre – Noche de Cabaret: Pablo Zinger y Diana López "TANGOS DEL PLATA" Música de Uruguay y Argentina en Teatro SEA.
18 de noviembre – Estreno mundial de "RANCHO TALES" presentado en Teatro SEA, una nueva obra de teatro lúdica.
29 de noviembre – CAFECITO CON… ESMERALDA SANTIAGO: LAS MADRES. Un panel presentado en CENTRO.
Para obtener una lista de todos los eventos, consulta https://borimix.com/
"Centro ha sido un socio de Borimix durante muchos años, brindando programación académica que se enfoca en documentar la experiencia puertorriqueña en los Estados Unidos", dice el Director Adjunto de CENTRO, Angel Antonio Ruiz Laboy. "Este año, al celebrar nuestro 50 aniversario, nos complace compartir nuestro conocimiento archivístico con la comunidad para ayudarlos a preservar archivos individuales y comunitarios, asegurando que nuestras historias continúen siendo contadas".
BORIMIX 2023 se llevará a cabo en varios lugares de la ciudad de Nueva York, incluidos CENTRO en CUNY Hunter y el Clemente Center, ubicado en el corazón del Lower East Side de Manhattan. El festival ofrecerá una variedad de eventos adecuados para todas las edades, brindando oportunidades para que individuos y familias se involucren con las artes y exploren la diversa herencia cultural de Puerto Rico y Uruguay.
"El BORIMIX 2023 ha ganado su reputación como una de las celebraciones más reconocidas del Mes de la Herencia Puertorriqueña en la ciudad de Nueva York, con un giro único que hace referencia a las culturas gemelas de todo el mundo. Nuestro trabajo es yuxtaponer diferentes audiencias para experimentar la expresión contemporánea de las culturas visuales y de actuación de Puerto Rico, esta vez con el país invitado -Uruguay- y sus comunidades diaspóricas. Esta edición se lleva a cabo en un momento especialmente crítico, ya que celebramos nuestro 30º aniversario y estamos en vísperas del inicio de un importante proyecto de accesibilidad y renovación para beneficiar a todos", dice Libertad Guerra, Directora Ejecutiva del Clemente Center.Para obtener más información y actualizaciones sobre BORIMIX 2023, visita https://borimix.com/ o síguenos en nuestras redes sociales: @teatrosea, @teatrolatea, @theclemente en todas las plataformas.