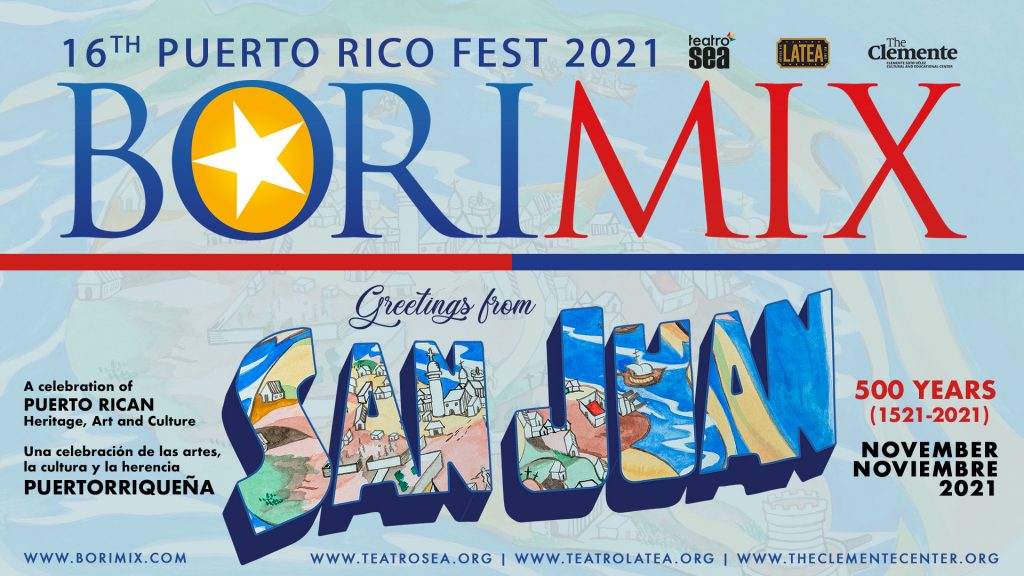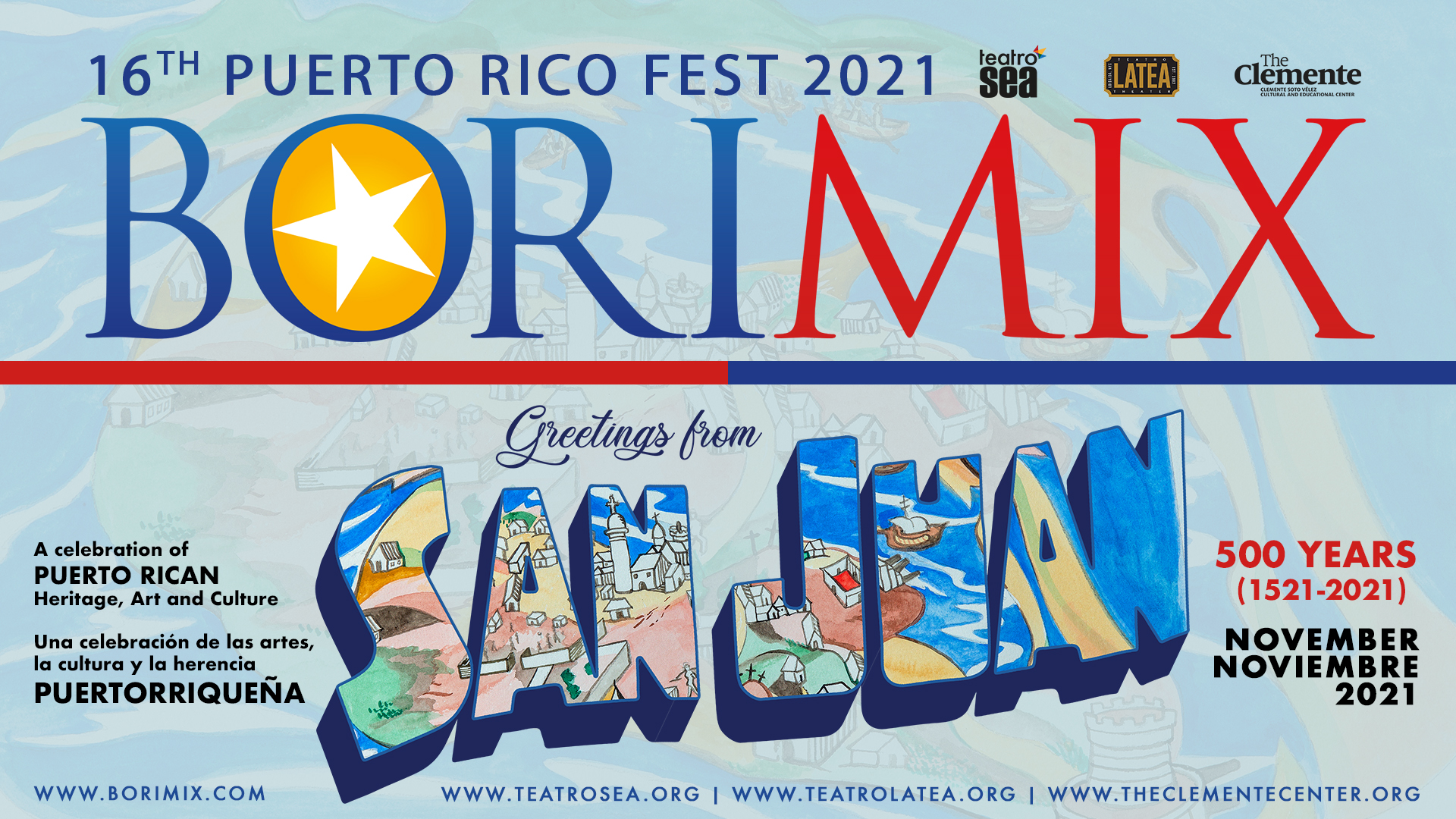 This November, The Clemente Soto Vélez Cultural Center is once again the epicenter of the 16th edition of the annual BORIMIX – Puerto Rico Fest – NYC's LatinX cultural landmark event with an in person opening festivity that you don't want to miss. This year's BORIMIX Festival will address the 500 year anniversary of the foundation of the capital city of Puerto Rico, San Juan, featuring a broad array of performances, panels, concerts, screenings, and a visual arts exhibit throughout the month. The kick off celebration will take place on November 12th at 6:00 p.m. with a line up featuring: A community award ceremony, the opening of "Stone Yucayeque" exhibition, headlining performances by Wily Rodriguez and William Parker as part of Jazz Libre, presented by Arts for Art, performances from Kevin Quiles Bonilla, and a screening of new work by playwright-director and filmmaker Javier Antonio González & Caborca. The Festival will take place in multiple venues within The Clemente.
Co-curated by art historian Melissa M. Ramos Borges, Irene Esteves Amador, and Carlos Ortiz Burgos with Miguel Trelles Hernández the month long "Stone Yucayeque" visual arts exhibition includes a stellar line-up of Puerto Rico-based, diasporic and contemporary artists riffing on how San Juan was erected on an islet off the main island, how its representation has kept evolving throughout these past 5 centuries and how anonymous indigenous (naborias) and African enslaved laborers were responsible for carrying out the construction of what once was a new Spanish city in the Caribbean.
BORIMIX was established in 2006 by two resident artists of The Clemente, Miguel Trelles, a visual artist, and Dr. Manuel Moran, Director of Teatro SEA. The concept gained quick recognition thanks to the cross pollination between visual arts and theater, ushering a novel synergistic approach to the New York celebration of Puerto Rican Heritage Month, an occasion that BORIMIX has turned into a rallying cry for unity, solidarity and mutual respect betweenLatinx diasporic communities in the Lower East Side (Loisaida) and NYC.
"More than ever, it is important to cultivate safe spaces where the Puerto Rican & LatinX communities can unify and celebrate our intersecting identities. BORIMIX is an event that focuses on featuring artists and honoring members of those communities for their outstanding contributions," said Dr. Moran, the Festival's Co-Founder and Producer.
BORIMIX co-founder, Miguel Trelles, mentioned that "BORIMIX is Nuyorican "burundanga" – a nod to our diaspora's commitment to boricua roots and an emphasis on Borínquen's connection with the Caribbean, Latin America, and the world. BORIMIX is a friendly greeting "made in Loisaida", with Puerto Rico in mind and minding the whole world."
The festival will include four panels in collaboration with CUNY's Center for Puerto Rican Studies, in which historians, curators and scholars will discuss the appeal of San Juan to the NYC diaspora, and the distinct cultural output it has generated. The Clemente's Executive Director, Libertad O. Guerra, stated that "BORIMIX flows deeply in The Clemente's bloodstream. The Festival represents the ethos of our communities, the heady stew that is the Lower East Side/Loisaida. Seeded by Puerto Rican and LatinX activists but open to all, BORIMIX is a marker of the seasons, a warm embrace when the weather turns chilly. So join us in this unique celebration that is a bridge, connecting so much and so many. An anchor to us all."
We invite all media to celebrate Puerto Rican heritage month with us in this annual event. For any additional questions, please contact Teatro SEA, Teatro Latea, and The Clemente.
Teatro SEA, founded in 1985,(Society of the Educational Arts), is the premiere Bilingual Arts-in-Education Organization and LatinX Children's Theatre in the United States. It celebrates programs that include school, outdoor, community and main stage performances, and others. The organization was established by Manuel A. Moran, he currently has offices in San Juan, New York and Florida.
Teatro LATEA , founded in 1982, (Latin American Theater Experiment Associates), reflects the concern of award-winning actors Nelson Tamayo, Nelson Landrieu, Mateo Gómez, along with journalist/activist Marta García with the underrepresentation of the LatinX community in North American theater, film, and television. During its illustrious 39-year history. Teatro Latea has been widely acknowledged for its contributions to the performing arts.
The Clemente, founded in 1993, (The Clemente Soto Velez Cultural and Educational Center), is a Puerto Rican/LatinX cultural institution that demonstrates a broad-minded cultural vision and a collaborative philosophy. The Clemente houses and promotes artists and performance events. It provides spaces that are uniquely adaptable to the creative vision and goals of each organization or artist to test new grounds in an accessible facility.