2022 Festival honors guest country Venezuela and its intersection with Puerto Rican identity and artistic cultural heritage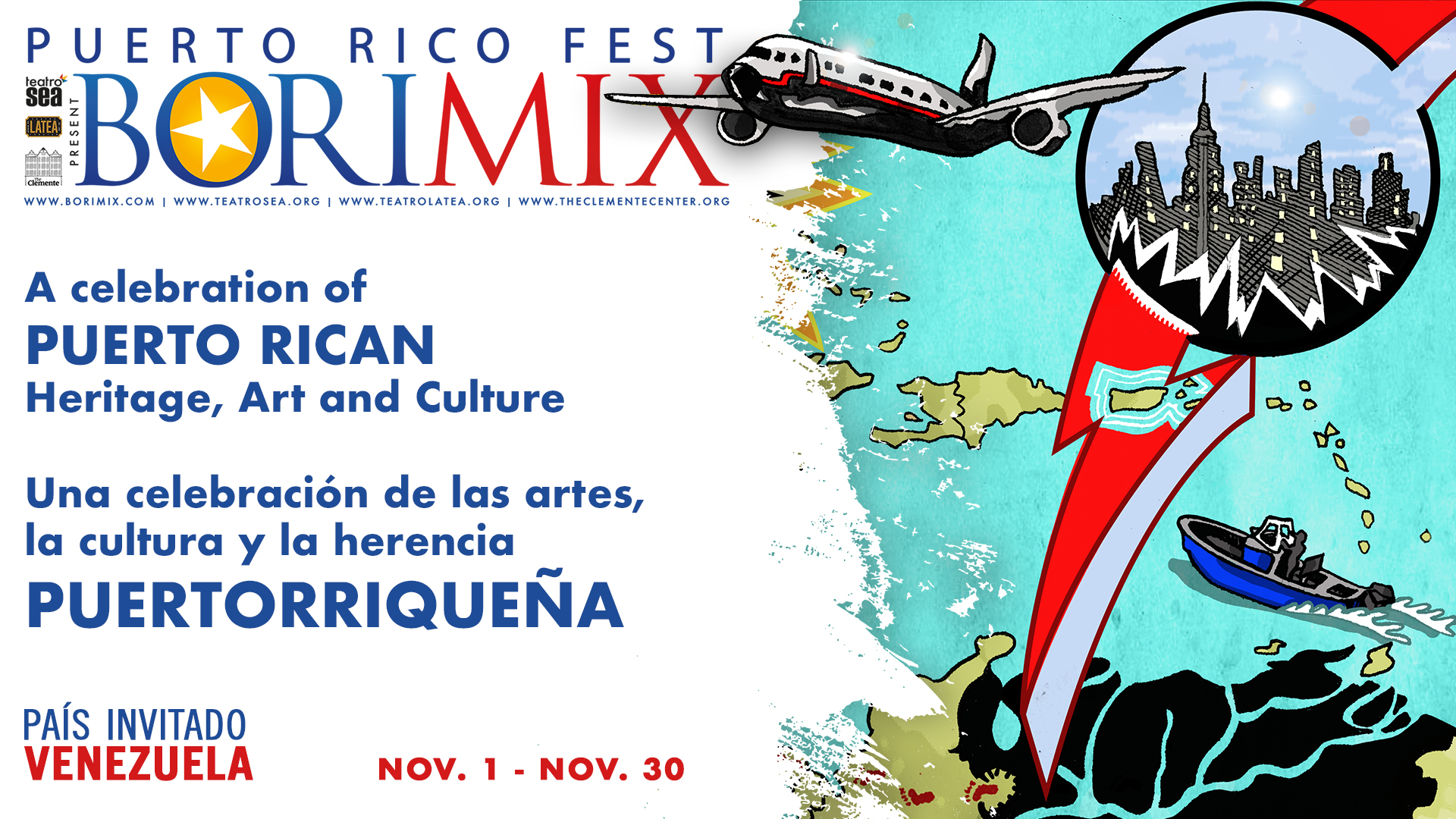 New York, NY – The 17th annual BORIMIX returns this November, celebrating Puerto Rican Heritage Month with a month-long, citywide festival of Puerto Rican artists in theatre, dance, music and the visual arts. A collaboration of Teatro SEA, Teatro LATEA, The Clemente, and CENTRO (Hunter College's Center for Puerto Rican Studies), BORIMIX makes Puerto Rican arts accessible to a multi-ethnic and multi-generational audience, promoting creative collaboration between Latinx artists. BORIMIX 2022 will also feature Venezuela as a guest country, part of its annual tradition of recognizing and honoring the mutual bonds and intersections across nations.
"BORIMIX has always emphasized the importance of collaboration, intersection, and cross-pollination among artists, mediums, identities, and nationalities," said Dr. Manuel Moran, co-founder of the festival and artistic director of Teatro SEA. "By partnering with organizations around the city and showcasing the arts of a guest country each year, we highlight how Puerto Rican and Latine culture transcends boundaries and makes our city stronger."
"For Puerto Rican artists and creators, Puerto Rican Heritage Month really lasts all year long, with our traditions and culture serving as creative fuel. BORIMIX Festival was founded to showcase this multidisciplinary talent in our community, and each year continues to grow in ambition and participation," said Miguel Trelles, co-founder of the festival and director of Teatro LATEA.
Kicking off with an awards ceremony and celebration on November 4, the festival will feature a variety of events throughout November, with a program that highlights both Puerto Rican and Venezuelan talent. BORIMIX will also honor awardees for their contributions to the city. The full program is available at borimix.com.
"Given the humanitarian crisis unfolding in New York City in which thousands of asylum seekers (mostly Venezuelan) are arriving in New York and overwhelming shelters, BORIMIX is proud to partner with artists Guadalupe Maravilla and Yara Tirado to host a night of performances to raise funds for NYC's newly arrived asylum seekers, in benefit of The Good Shepherd Church which has become a respite sanctuary for immigrants," said Libertad Guerra, executive director of The Clemente.
About BORIMIX
BORIMIX: Puerto Rico Fest was established in 2005 to celebrate Puerto Rican Heritage Month by showcasing great Puerto Rican art in a range of mediums. Initially held exclusively at The Clemente Soto Vélez Cultural & Educational Center in the Lower East Side, the festival expanded in 2007 to include multiple venues around the city. BORIMIX: Puerto Rico Fest 2007 also inaugurated the BORIMIX Award, which recognizes and honors individuals and companies who have contributed to, supported and advocated for Puerto Rican arts in New York City. The mission of BORIMIX: Puerto Rico Fest is to make Puerto Rican arts accessible to a multi-ethnic and multi-generational audience, and to promote collaboration between Latino artists. BORIMIX.COM
About The Clemente Center
The Clemente is a Puerto Rican/Latinx multi-arts downtown staple for close to three decades,
and the pulpit where countless New York based Latinx, BIPOC, local LES, and international partners create contemporary work and co-productions in a collaborative environment. The Clemente provides meaningful support to contemporary artists, curators, independent producers, and small arts organizations in the form of subsidized studio, rehearsal, office, and venue space; as well as countless co-production opportunities, an annual series of exhibitions, and seasonal festivals. theclementecenter.org
About Teatro SEA
Established in 1985, SEA (Society of the Educational Arts, Inc.), is the premiere Bilingual Arts-in-Education Organization and Latino Children's Theatre in the United States. SEA has created and produced a combination of educational theatre productions and art workshops/programs specifically designed to examine, challenge and create possible solutions for current educational, social and community issues. Its internationally celebrated programs include school, outdoor, community and main stage performances, workshops and residencies, among others, reaching over 75,000 children and young adults every year. The organization, established by Dr. Manuel A. Morán, currently has offices in San Juan, New York, and Florida. Teatro SEA has its performance space at the Clemente Soto Vélez Cultural and Educational Center on Manhattan's Lower East Side. teatrosea.org
About Teatro LATEA
Founded in 1982 by Nelson Tamayo, Nelson Landrieu, Mateo Gomez and Marta García. Latin American Theater Experiment Associates (Teatro LATEA) reflects the concern of these award-winning actors with the underrepresentation of Latinos in North American theater. When the Solidaridad Humana bilingual educational program anchored at former P.S. 160 ceased to exist, the founders developed a communal theater space. Shortly thereafter LATEA found itself as the sole tenant of the former Public School building. Serendipitously, its members and Ed Vega Yunqué manged to safeguard a formidable city-owned building for downtown Latino arts. In 1993 Ed Vega and the LATEA founders established the Clemente Soto Vélez Cultural and Educational Center (The Clemente). During its illustrious 38 year history, Teatro LATEA has been widely acknowledged for its contributions to the performing arts. teatrolatea.org
---
BORIMIX regresa en noviembre para el mes de la herencia Puertorriqueña, celebrando la resiliencia, creatividad e interseccionalidad Latinx.
El festival este año honra a Venezuela como país invitado y su intersección con la identidad y la herencia artística cultural de Puerto Rico.
Nueva York, NY – El Festival anual BORIMIX regresa para su edición número 17, este noviembre, celebrando la Herencia Puertorriqueña con un mes de festival a lo largo de la ciudad, con artistas puertorriqueños en el teatro, la danza, la música y las artes visuales. Una colaboración de Teatro SEA, Teatro LATEA, El Clemente, y CENTRO (Centro de Estudios Puertorriqueños de Hunter College), BORIMIX hace el arte de Puerto Rico accesible a una audiencia multiétnica y multi-generacional que promueve la colaboración entre artistas Latinx.
BORIMIX 2022 también contará con Venezuela, como país invitado, parte de la tradición anual del festival de reconocer y honrar los lazos mutuos y las intersecciones entre naciones.
"BORIMIX siempre ha enfatizado la importancia de la colaboración, interacción y polinización cruzada entre artistas, medios, identidades y nacionalidades," dijo el Dr. Manuel Morán, co-fundador del festival y director artístico de Teatro SEA. "Por medio de la asociación con otras organizaciones alrededor de la ciudad y mostrando el arte de un país invitado, cada año, resaltamos como Puerto Rico y la cultura Latine trasciende fronteras y hace más fuerte a nuestra ciudad".
"Para los artistas y creadores puertorriqueños, el mes de la Herencia Puertorriqueña realmente dura todo el año, con nuestras tradiciones y cultura, participando como alimento creativo. El festival BORIMIX fue fundado para mostrar este talento multidisciplinario en nuestra comunidad, y cada año continúa creciendo en propósito y participación", dijo Miguel Trelles, co-fundador del festival y director del Teatro LATEA.
Comenzando con una ceremonia de premiación y celebración el 4 de noviembre, el festival presentará una variedad de eventos durante noviembre, con un programa que realza tanto el talento Puertorriqueño como el Venezolano. BORIMIX también honraremos a los premiados por sus contribuciones a la ciudad. El programa completo está en borimix.com.
"Dada la crisis humanitaria desarrollándose en la ciudad de Nueva York en la cual miles de peticionarios de asilo (en su mayoría Venezolanos) están llegando a Nueva York, abarrotando los refugios, BORIMIX está orgulloso de asociarse con las artistas Guadalupe Maravilla y Yara Tirado y organizar una noche de presentaciones para recaudar fondos destinados a los nuevos peticionarios de asilo en NYC y a beneficio de la Iglesia The Good Shepherd, la cual se ha transformado en un santuario de descanso para los inmigrantes", dijo Libertad Guerra, director ejecutivo de El Clemente.
Acerca de BORIMIX
BORIMIX: Puerto Rico Fest se estableció en el 2005 para celebrar el mes de la herencia Puertorriqueña mostrando el gran arte de Puerto Rico en una variedad de medios. Inicialmente realizado exclusivamente en el Centro Cultural y Educativo Clemente Soto Vélez en el Lower East Side, el festival se expandió en el 2007 para incluir múltiples lugares alrededor de la ciudad. BORIMIX, Puerto Rico Fest 2007 también inauguró el premio BORIMIX, el cual reconoce y honra a individuos y compañías que han contribuido, apoyado y defendido las artes Puertorriqueñas en la ciudad de Nueva York.
La misión de BORIMIX: Puerto Rico Fest es hacer que el arte puertoriqueño sea accesible a una audiencia multiétnica y multi-generacional, al igual que promover la colaboración entre artistas latinos. BORIMIX.COM
Acerca de El Clemente
El Clemente ha sido un centro clave de múltiples tipos de arte Puertoriqueño en downtown, por casi tres décadas y el púlpito donde innumerables Latinx, BIPOC, LES locales y socios internacionales crean arte contemporáneo y co-producciones en un ambiente colaborativo. El Clemente provee apoyo significativo a artistas contemporáneos, curadores, productores independientes, y pequeñas organizaciones de arte por medio de espacios de estudios, ensayo, oficina y presentación subsidiados; así como oportunidades de coproducción innumerables, series anuales de exhibición y festivales de temporada. theclementecenter.org
Acerca de Teatro SEA
Establecido en 1985, SEA (Sociedad de las Artes Educativas, Inc.) es la principal organización bilingüe de artes en la educación y teatro infantil en los Estados Unidos.
SEA ha creado y producido una combinación de producciones teatrales educativas y talleres/programas de arte específicamente diseñados para examinar, desafiar y crear posibles soluciones a problemas educativos, sociales y comunitarios de la actualidad.
Sus programas celebrados internacionalmente incluyen presentaciones en escuelas, al aire libre, en escenarios principales y comunitarios, talleres y residencias, entre otros, han alcanzado más de 75,000 niños y jóvenes, cada año. La organización, establecida por el Dr. Manuel A. Morán tiene actualmente oficinas en San Juan, Nueva York y La Florida. Teatro SEA tiene su espacio de presentaciones en el Centro Cultural y Educativo Clemente Soto Vélez en el Lower East Side de Manhattan. teatrosea.org
Acerca de Teatro LATEA
Fundado en 1982 por Nelson Tamayo, Nelson Landrieu, Mateo Gomez y Marta Garcia.Latin American Theater Experiment Associates (Teatro LATEA) refleja la preocupación de estos premiados actores para con la subrepresentación de los latinos en el teatro Norteamericano. Cuando el programa educativo bilingüe "Solidaridad Humana" se ancló en el antiguo P.S. 160, este dejó de existir, los fundadores desarrollaron un espacio de teatro comunitario. Poco tiempo después LATEA quedó como único inquilino del edificio de la antigua escuela pública. Por casualidad, sus miembros y Ed Vega Yunque lograron salvaguardar un formidable edificio municipal en downtown para las artes latinas. En 1993 Ed Vega y los fundadores de LATEA, establecieron el Centro Cultural y Educativo Clemente Soto Vélez (El Clemente). Durante su ilustre historia de 38 años, Teatro LATEA ha sido ampliamente reconocido por sus contribuciones a las artes escénicas. teatrolatea.org