This beloved classic tale is given a modern twist in a spectacular show suitable for all ages. From March 21 to May 13, this beautiful production is sure to delight.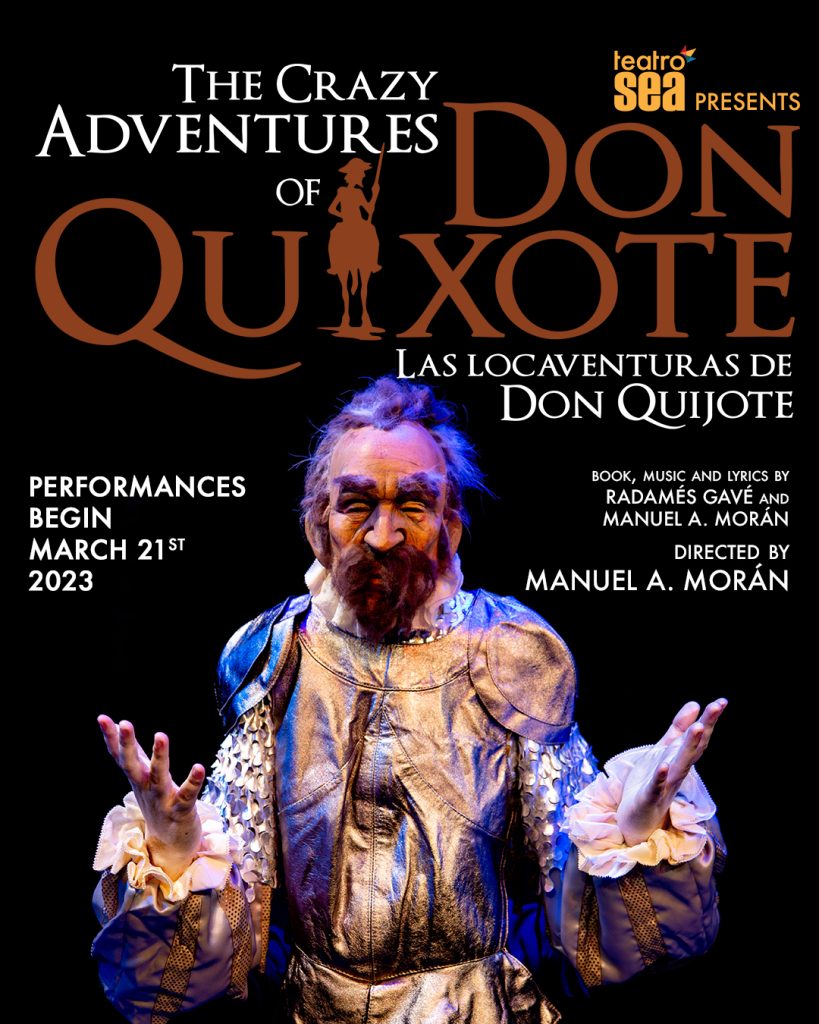 New York, NY – Teatro SEA, the Latinx children's theater in NYC, is excited to announce the premiere of The Crazy Adventures of Don Quixote, a new bilingual musical, based on Miguel de Cervantes' classic novel. Book, Music and Lyrics by Radamés Gavé and Manuel Antonio Morán, with Morán also serving as the director. The show runs from March 21st, World Puppetry Day, until May 13th.
"At Teatro SEA, we are dedicated to presenting high-quality productions that showcase the richness of Latinx arts and culture, particularly in children's literature and folktales. Don Quixote is a beautiful example of this commitment, and we are excited to share this bilingual musical with our audiences. We hope this show inspires audiences of all ages!" – Dr. Manuel A. Morán, Artistic Director of Teatro SEA.
This musical features an original score with arrangements by Jaime Lozano (Viva Frida), Musical Direction by Guillermo Vaisman (UN's Choir Director) and stunning puppets crafted by Master Puppeteer Álvaro Ortega Beltrán (Títeres Etcétera) from Spain. Daniel Fetecua (Limón Dance Company) choreographs the production, and the classic Spanish Golden Age costumes are designed by Ingrid Hamster Harris. Miguel Valderrama will design the lights, while John D'Onofrio and Manuel Morán will be responsible for designing the sets.
The limited nine-week run begins with a Gala Performance on March 21st, 2023 (benefiting our "Sponsor a Kid" campaign and the upcoming International Puppet Fringe Festival of NYC) and ends on May 13th. Performances are on Saturdays at 3PM, with weekday shows available for schools and groups.
Teatro SEA is a proud member of the Alliance of Teatros Latinos, New York, and this production is part of TEATRO FEST 2023, a vibrant Latinx festival of drama, dance, music, and puppetry that will take place across nine NYC theaters throughout March and April 2023.
Teatro SEA is committed to showcasing high-quality productions that promote education and positive values, particularly those rooted in Latiné children's literature, folktales, and art. The theater also fosters cultural exchange between different communities, introducing non-Spanish speaking audiences to Latinx Arts & Culture. Don't miss out on this fantastic production – join us for The Crazy Adventures of Don Quixote!
Teatro SEA @ The Clemente Center on the Lower East Side 107 Suffolk Street, New York, NY 10002
Tickets: Children $15.00 Adults $20.00
For more information, please visit www.teatrosea.org or call 212 529-1545.
---
---
¡Celebre el Día Mundial del Títere con la nueva producción de Teatro SEA, Las Locaventuras de Don Quijote!
El clásico literario de Cervantes se reinventa en una aventura teatral espectacular, llena de sorpresas para todas las edades. Desde el 21 de marzo hasta el 13 de mayo.
Nueva York, NY – Teatro SEA, el teatro infantil latino de NYC, se complace en anunciar el estreno de Las Locaventuras de Don Quijote, un nuevo musical bilingüe, basado en la novela clásica de Miguel de Cervantes. En versión teatral, música y letras de Radamés Gavé y Manuel Antonio Morán, quién también dirige el espectáculo. La obra se presenta desde el 21 de marzo, Día Mundial del Títere, hasta el 13 de mayo.
"En Teatro SEA, estamos dedicados a presentar producciones de alta calidad que muestren la riqueza de las artes y la cultura latina, especialmente en la literatura infantil y los cuentos populares. Don Quijote es un hermoso ejemplo de este compromiso, y estamos emocionados de compartir este musical bilingüe con nuestro público. ¡Esperamos que esta obra inspire a audiencias de todas las edades!" – Dr. Manuel A. Morán, Director Artístico de Teatro SEA.
Este musical cuenta con una banda sonora original con arreglos de Jaime Lozano (Viva Frida), dirección musical de Guillermo Vaisman (Director del Coro de la ONU) y sorprendentes títeres elaborados por el Maestro Titiritero Álvaro Ortega Beltrán (Títeres Etcétera) de España. Daniel Fetecua (Compañía de Danza Limón) coreografía la producción, y el vestuario clásico, emulando el Siglo de Oro Español, es diseñado por Ingrid Hamster Harris. El diseño de luces es de Miguel Valderrama, mientras que John D'Onofrio y Manuel Morán serán los responsables del diseño escenográfico.
La obra se presentará en temporada limitada, sólo por nueve semanas, comenzando el 21 de marzo con una función de Gala (a beneficio del próximo Festival Internacional de Títeres Fringe de Nueva York) y terminará el 13 de mayo. Las funciones son los sábados a las 3PM, con funciones durante la semana disponibles para escuelas y grupos.
Teatro SEA es miembro de la Alliance of Teatros Latinos Nueva York, y esta producción es parte de TEATRO FEST 2023, un vibrante festival latino que combina varios géneros teatrales, danza, música y títeres, que tiene como sede nueve teatros de la ciudad de Nueva York, durante marzo y abril de 2023.
Teatro SEA presenta producciones de alta calidad que promueven la educación y los valores positivos, especialmente aquellos arraigados en la literatura infantil, los cuentos populares y el arte ibero-americano. También fomenta el intercambio cultural entre diferentes comunidades, presentando las artes y la cultura hispana a audiencias que no hablan español. ¡No te pierdas esta fantástica producción, Las Locaventuras de Don Quijote!
Teatro SEA @ The Clemente Center en el Bajo Manhattan107 Suffolk Street, New York, NY 10002
Boletos: Niños $15.00 Adultos $20.00
Para mayor información visite www.teatrosea.org o llame al 212 529-1545.