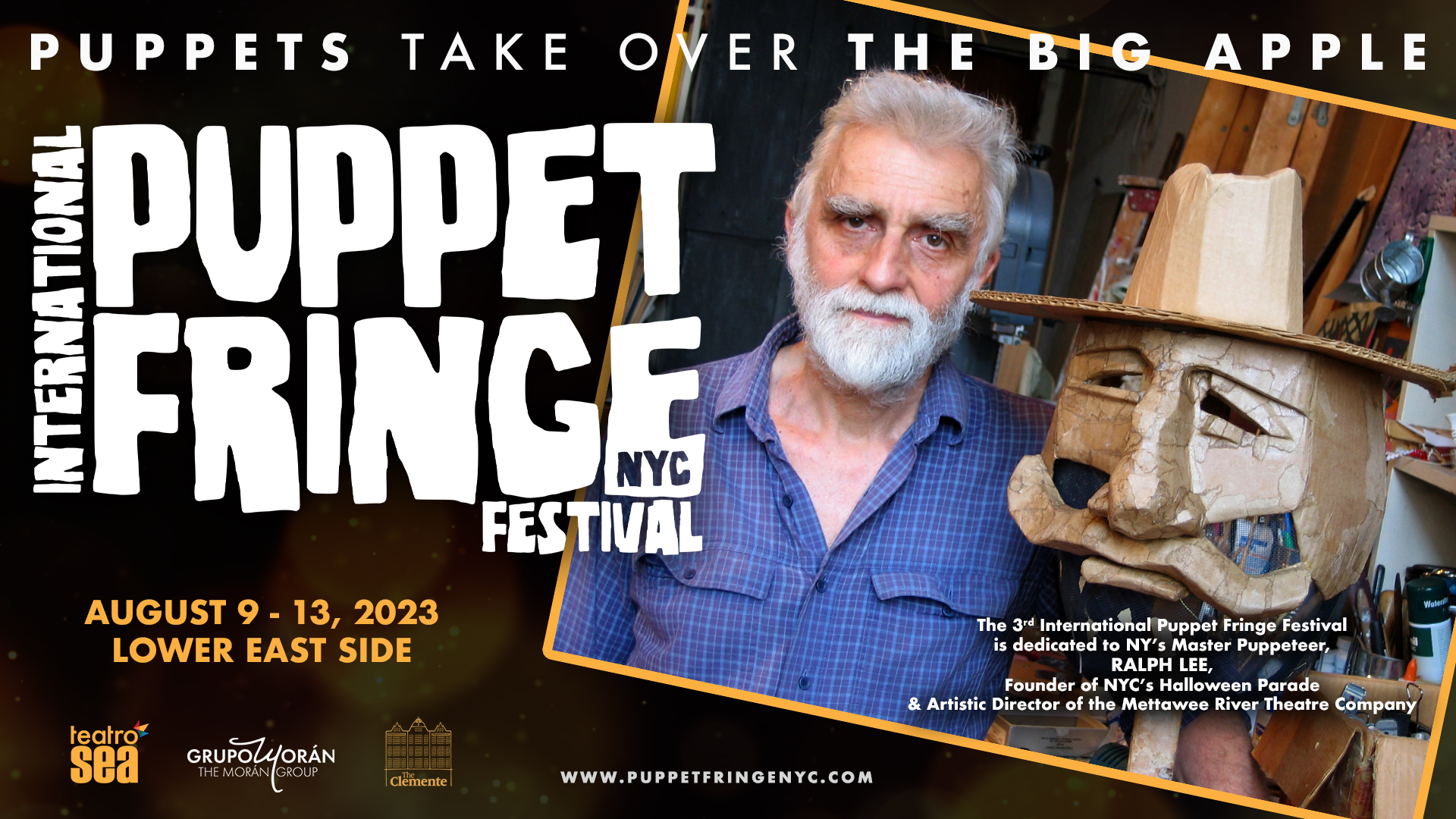 3rd International Puppet Fringe Festival
The International Puppet Fringe Festival, New York's only international fringe festival dedicated to puppetry, returns August 6th, 2023, and will once again feature performances by leading puppet makers and troupes from around the world. Organized by Teatro SEA, Grupo Morán (The Morán Group) and The Clemente Soto Velez Cultural & Education Center, the festival is currently seeking applications from puppeteers and troupes for the 2023 festival, with applications due by February 15, 2023.
Following the sensational success of the 2021 and 2018 festivals, and the inaugural Puppet Week NYC, Puppet Fringe 2023 will honor rich puppetry traditions and talented puppeteers, including an award for the founder of the Village Halloween Parade, Ralph Lee. Lee is known for his visionary, surreal, life-sized puppets that have become a feature of New York City's parades, theaters, and public celebrations. In honor of Lee's vast contributions to the puppetry arts, the 2023 Puppet Fringe Festival theme will be "Halloween in August," featuring spooky and silly puppets that celebrate this beloved holiday.
-Ticketing Options-
This year we are excited to announce three different ways to experience all that Puppet Fringe has to offer:
VIP PACKAGE – 
One Ticket for all days of the festival – getting you access to everything the festival has to offer for the whole week (note: the date does not matter for this purchase – it is good for entirety of festival regardless of purchase date): purchase here
DAY PASS-
Can't make every day of the festival? Not a problem – purchase a ticket that is good for all events happening on the day you wish to attend by clicking on the day in question below:
Per Event – Calendar View-
Have a specific event or performance in mind? Just want to see the full schedule of events? No Problem – just follow the link here to access the calendar showing all ticketed events for the entire festival (Please Note: All Time, Dates and Location are subject to change – make sure to check the calendar or reach out to us directly for updates): calendar
Accessibility Disclosure:
We understand the importance of accessibility and strive to make our festival as inclusive as possible. However, we regret to inform you that during the upcoming festival, the Clemente Center is undergoing accessibility improvements which may limit accessibility options for some individuals.
That being said, we are pleased to announce that the outdoor venues, Teatro SEA, and first floor LES gallery are available to those with specific mobility needs. We apologize for the inconvenience and hope to have improved accessibility options available for future festivals.
Thank you for your understanding and continued support of the International Puppet Fringe Festival.
Please note all Dates and Times are subject to change – All Sales are Final.