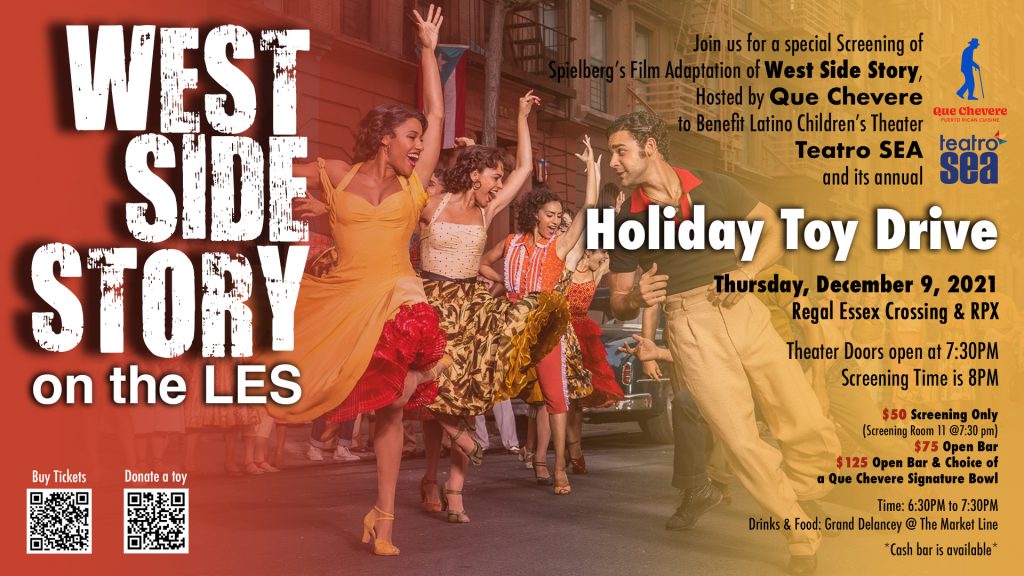 Dear Friends,
I hope you had a great Thanksgiving weekend! I wanted to let you know that next Tuesday, Nov. 30th is #GivingTuesday, an opportunity to support non profit organizations and to give to those less fortunate, thus spreading the true spirit of the holidays. I usually don't ask for donations, but it has been a very difficult time for my organization. It would be great if you can contribute to our Annual Fundraiser on December 9th, to help fund and support the mission of Teatro SEA and our annual Toy Drive for our Three Kings Days Event on January 6th, all of which is for underserved NYC communities and children.
For helping us spread the holiday spirit, we put together something very special for you, an early screening at REGAL THEATRES on ESSEX & DELANCEY Streets, (one day before the world premiere) of Steven Spielberg's WEST SIDE STORY. The event is hosted and catered by Que Chevere!, a Puerto Rican Cuisine Restaurant! (www.quechevereles.com). All proceeds go to purchasing toys and books for our annual Three Kings Day Event, now in its 21st year.
Tickets are on sale now and allow you to choose from three options. In addition, for your donation you also receive a 25% discount for Teatro SEA's new Three Kings Day production "Dream of Kings," which premieres on December 10 and runs through January 9th. This is Teatro SEA's first new indoor production since its pandemic closure.
OPTIONS:
● $125 Film Tickets, Open Bar & Choice of Que Chevere's Puerto Rican Menu Items
● $75 Film Tickets & Open Bar
● $50 Film Tickets Only
Ticket holders also can donate a toy online with their purchase at checkout.
If you can't make it, but still want to donate, click here
All donations are tax-deductible. Also, it will be great if you can share the links or forward this email to your friends and colleagues.
As you know, It's been a very hard time for our theater. Losing more than 90% of our contracts/box office and even though some theaters have re-opened, Children's Theaters are still closed, and like us, are planning to open in December after many kids have been vaccinated.
Here is your chance to make a difference this holiday SEAson, donate now and help spread the true holiday spirit! Thank you so very much for your support!!!
¡Gracias!
Manuel