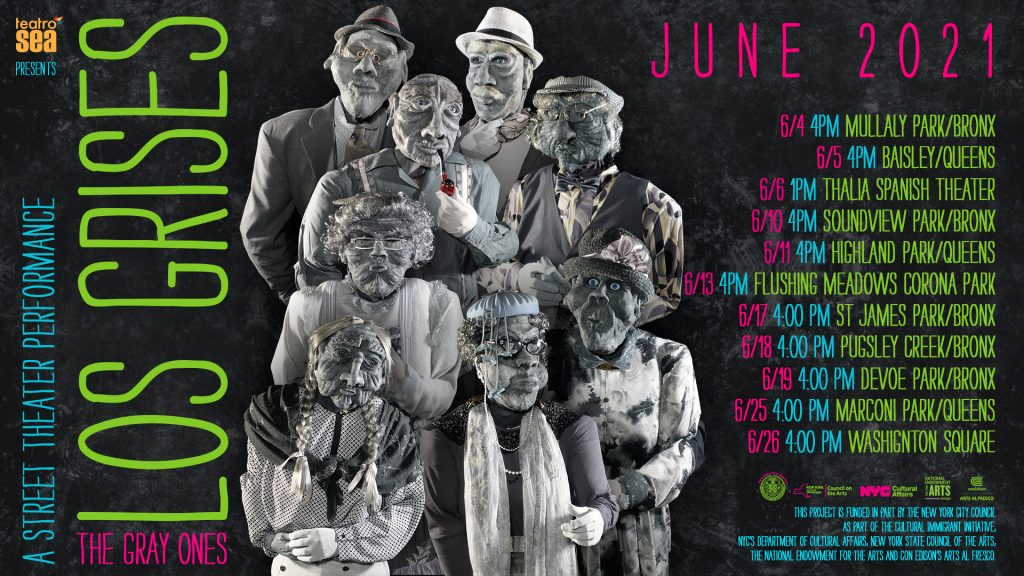 After a year of producing mostly virtual content, Teatro SEA, the Latino Theater for Young Audiences of NYC, is proud to announce their latest in person production LOS GRISES/THE GRAY ONES, a tribute to our elders that will take open spaces and streets of NYC. This outdoor/street show was conceived and created during the quarantine by Teatro SEA's Founder and Artistic Director, Manuel Antonio Morán (concept, puppets and direction). This is Teatro SEA's answer to our continued commitment to provide our communities with cultural programming, especially since the closing of our theaters for more than a year.
LOS GRISES/THE GRAY ONES is a celebration of old age and a call to inclusiveness, with the aim of motivating and encouraging us to pay greater attention to the well-being of our seniors. Set to the backdrop of Boleros, Tangos, Mambos and the various musical genres from yesteryear. Join a few senior members of our community, represented by eight hybrid puppets in a vignette based, unscripted street performance,as they take a walk down memory lane and share their experiences, dreams and stories through movement, dance and pantomime, no words at all.
LOS GRISES/THE GRAY ONES runs around 40 minutes and adapts to all types of spaces, from a sidewalk to a full stage. And it is suitable for all audiences. This summer tour will be showcased at Parks, Gardens, Plazas in various neighborhoods throughout New York City. This exciting and melancholic show is partially funded by a Cultural Immigration Initiative grant awarded to us by Council Member Chin (District 1), Council Member Diaz (District 18), Council Member Gibson (District 16), Council Member Adams (District 28), Council Member Cabrera (District 14) and Council Member (District 37). The show is also available for touring.
The creative and production team of LOS GRISES/THE GRAY ONES is: Daisy Payero, Associate Director; José Rojas, Choreographer; Ingrid Hamster Harris, Costumes, Manuel Calzada, Sound Design; Miguel Trelles, Art; George Riverón, Art Director; J. Edgar Mozoub, Production Manager; Richard Marino, Associate Producer; and Dr. Manuel Morán, Producer.Teatro SEA is committed to follow all safety measures established by the City and CDC and will implement all current pandemic protocols ensuring the health and safety of all audience and cast members.
For more information or to book an outdoor performance of this show contact Ángel Antonio Ruiz, Managing Director, at aruiz@teatrosea.org.