SUMMERTIME FUN IN THE CITY!
AUGUST 9 – 13, 2023
New York, NY (June 27, 2023) – Get ready for summertime fun as New York City is set to host the free and 3rd Annual International Puppet Fringe Festival from August 9 –13, 2023, in the Lower East Side. As the only international festival dedicated to puppetry, it is organized by Teatro SEA, Grupo Morán (The Morán Group) and The Clemente Soto Vélez Cultural & Education Center.
"We are delighted to welcome back the International Puppet Fringe Festival, which this year will honor New York City's most renowned puppet master and founder of the Village Halloween Parade, Ralph Lee, who passed away in May," said Anne del Castillo, Commissioner of the NYC Mayor's Office of Media and Entertainment. "Now in its third year, the week-long festival invites audiences of all ages to celebrate the art of puppetry in this one-of-a-kind experience that defines our city as a global creative capital."
With a diverse lineup of performances from all over the world, the festival will showcase the artistry and creativity of puppetry. Puppet Fringe will feature free public performances and events daily – open to all.
The New York Times raved of the festival "Something lighthearted and uplifting, but also thought-provoking and as varied as the city itself." Time Out New York exclaimed "A celebration of diversity, inclusion and beautiful performances." ABC New York said, "An explosion of color, culture and music!"
""Prepare to witness an awe-inspiring display of talent at Puppet Fringe 2023. With a captivating 'Halloween in August' theme, we will take our audiences on a mesmerizing journey into a realm brimming with wonder and enchantment, as we pay tribute to the remarkable Ralph Lee."" says Dr. Manuel Morán, Founder of the International Puppet Fringe Festival.
Kick-off will be on August 9th with a Mini-Halloween Procession where puppeteers will take to the streets with their favorite fun and spooky puppets to emulate the famous Village Halloween parade, created by Mr. Lee each October. Lee was known for his visionary, surreal life-size puppets that have become a feature in NYC parades, theatres and public celebrations.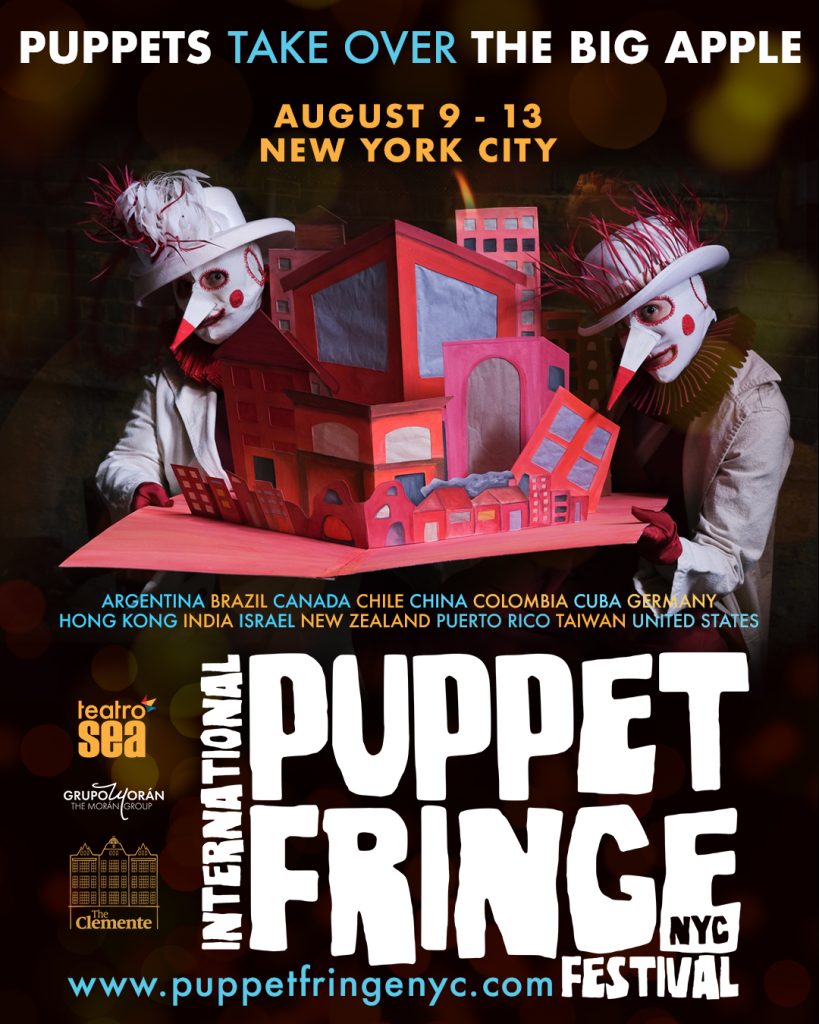 The lineup of participating main venue puppetry groups (as of 6/27) include:
· Teatro SEA (USA)
· Yael Rasooly (Israel)
· Puppet Beings Theater (Taiwan)
· Maskhunt/Deborah Hunt (Puerto Rico/New Zealand)
· Scapegoat Carnivale (Canada)
· Lumiato Teatro de Formas Animades (Brazil)
· Treasure Chest Theatre (Hong Kong/USA)
· Fernán Cardama (Argentina)
· Tholpavakoothu & Puppet Centre (India)
· Junktown Duende (Puerto Rico/USA)
· Boxcutter Collective (USA)
· Wonderspark Puppets (USA)
· Swedish Cottage Marionette Theatre Mobile (USA)
· Nappy's Puppets (Jim Napolitano) (USA)
Also included are presentations from Cuba, Colombia, Chile among others
There will be two special exhibitions of Ralph Lee's work which will be held in various venues in the Clemente Soto Velez Cultural Center (107 Suffolk Street) featuring important art pieces from the recent exhibition at the Ballard Institute Museum of Puppetry and rare photographic records of important moments in Mr. Lee's career.
A large portion of Lee's work is shared by the Cathedral of St. John the Divine, where Lee was artist-in-residence for many years. "For someone so accomplished, Ralph was entirely without presumption," says the Very Rev. Patrick Malloy, PhD, Dean of the Cathedral. "He loved his craft; he loved seeing people's delight and awe in the face of it and he loved the Cathedral. He sought the good of this great city, and in doing so, he became part of its fabric."
Other events include cabaret nights hosted by Great Small Works and Punto SEA Puppet Open Mic Nights, film screenings provided by Heather Henson's Handmade Puppet Dreams film series, roundtable discussions by the Mettawee River company, master-class workshops in puppetry and puppet crafting, a weekend of MicroTheater performances (guerilla-style theater in unorthodox venues), and a gala closing party featuring an incredible salsa band.
"We are thrilled to once again host and co-present the International Puppet Fringe Festival taking over the full ecosystem of The Clemente's building," said Libertad Guerra, Executive Director of the Clemente Center. "The Clemente is a nexus between the rich cultural histories of underrepresented art forms and the cutting edge of a range of forms, including puppetry. Although this year's celebration will be bittersweet with the recent passing of Mr. Lee, we are privileged to remember his life and legacy with this truly unique and exciting festival made accessible to all."
Partners for the festival include the Mayor's Office of Media and Entertainment (MOME), the Hispanic Federation, UNIMA-USA, The Jim Henson Foundation, the Cathedral of St. John the Divine, Taiwan Cultural Center, Ralph Lee's Mettawee River Company, The Village Halloween Parade, the Taipei Cultural Center in New York, Ministry of Culture, Republic of China (Taiwan), NYC Councilmembers Christopher Marte, Carlina Rivera, NYC Speaker Adrienne Adams, and more.
The 2023 International Puppet Fringe Festival promises to be an unforgettable experience, whether you are a puppet enthusiast, an art lover, or simply looking for a fun and family friendly event to attend. The full program will be released soon. More announcements and updates can be found at www.puppetfringenyc.com
_______
https://www.facebook.com/puppetfringenyc/
www.instagram.com//puppetfringenyc