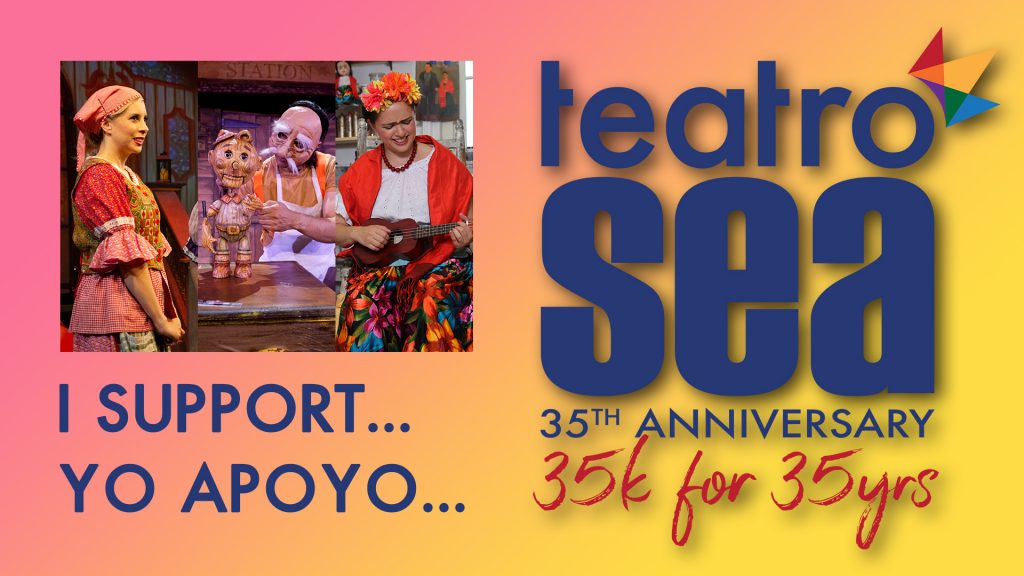 Teatro SEA is Celebrating 35 Years of Success!
Teatro SEA is a Latino Bilingual Art-in-Education and Theatre Company based in the Lower East Side of New York City, and with offices in Puerto Rico and Florida This vital organization seeks to empower and advance the latinx community and culture in the United States.
In its 35 year journey, Teatro SEA has performed over 5,000 shows and reached more than one million people.
SEA's growing repertory encompasses 25 original musical productions, seasonal festivals, plays and educational workshops. Our work is all original – performed simultaneously in English and Spanish, and is rooted in classic fairytales and folktales from acrossLatin America – but put in a new context designed to educate, entertain and provoke discussions in the community about latino culture, immigration and more.
We are proud to be making a difference in the lives of children and their families, building self-esteem and celebrating heritage and diversity.
It is a Critical Time for Teatro SEA
As many arts organizations are being forced to dissolve, we are more passionate than ever about our mission. We are proud to be celebrating our legacy with a special fundraising program to help equip us to continue our work as we set our sights on the next 35 years.
We are expanding our efforts to include virtual programming, "Libros Teatro – Theatre Books" – a new children's book series, video productions, our new web series and musical project El Avion The Airplane…and more!
Before the pandemic, Teatro SEA employed more than 80 artists, arts-administrators, designers, puppeteers, technicians and teaching-artists. We are working hard to develop strategies so that we can continue to be a vital force of education, enrichment, and employment in the theatrical community.
Act Now to Help Ensure we Can continue to Enrich the lives of Children for 35+ years more!
Our goal is to raise $35,000 in celebration of our 35 years of success and to help secure the future of SEA! We invite you to join us, no matter the size of your gift. Whether you give $35, $350, or $3,500 — please show your pride and support for Teatro SEA by donating today.
Your donation will help to ensure that Teatro SEA can survive beyond the pandemic and give us the boost we need to successfully reinvent our programming while our "real world" theatre is closed. We have the vision and potential to amplify our programming to a virtual world, creating a resource for education and entertainment that is more far-reaching than we ever imagined.
Other Ways You Can Help
Some people just can't contribute, but that doesn't mean they can't help!
Please help us to spread the word and share this opportunity with your friends and colleagues!
Together, we can make a difference!