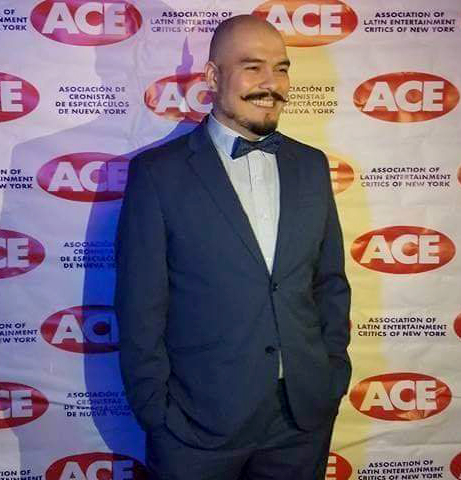 J. Edgar Mozoub named the new Managing Director & Associate Producer of Teatro SEA.
Edgar is an actor, director, photographer, journalist and radio/tv host. He began his performing arts career at the tender age of 12 while working with some of NYC's and the Caribbean prominent directors such as Pablo Cabrera, Victoria Espinosa and Hector Luis Rivera among others. He shared the stage alongside Ilka Tania Pagan, Virginia Rambal, Teresa Yenque, Ramon Albino and Luis Caballero, as well as being mentored by Maria Torres, an acclaimed Broadway, TV and film choreographer. Aside from his acting work, at that age he already held several technical positions, including house manager, stage manager and props assistant.
Mr. Mozoub is no stranger to the business and corporate world. During his 10 years working at Stepping Out Dance Studios, he became the youngest Sales and Special Events Manager, overseeing private lessons, rentals and the production aspects of all special events. He also spent almost 15 years working for the Marriott International Hotel chain catering to the Entertainment and Sports industry, where he held various management positions such as Operations Manager and Senior Sales Manager, among others. His clients included ESPN, Disney, Felt Entertainment, MLB, Sony, NBA, WWE, MLS and the NFL.
Edgar is currently the Editor in Chief of Arte NY, an online bilingual magazine dedicated to the arts for and by Latinx in NYC. He is also the Founder and Artistic Director of the multi award winning Group of the Arts (GOTA) a performing and visual arts collective dedicated to highlight the many artistic talents of its members.
"Starting on September 1st, 2021 Mr. Mozoub will take on the Managing Director position. Mr. Mozoub has been the Production Manager and Technical Director at SEA for the past years. Since his beginnings at SEA, he has proven to be a valuable and effective leader. We are very fortunate to have him on our team. He'll do well in this new leadership role." stated Dr. Manuel Morán, Founder and CEO.
"I am thrilled and excited to take on this new role, where I hope to move SEA's vision and mission further. I'm ready for this new challenge." concluded Mr. Mozoub.
---
Estamos encantados de anunciar a nuestro nuevo Director Gerente
y Productor Asociado en Teatro SEA
J. Edgar Mozoub nombrado nuevo Gerente General y Productor Asociado de Teatro SEA.
Edgar es actor, director, fotógrafo, periodista y presentador de radio y televisión. Comenzó su carrera en las artes escénicas a la edad de 12 años, mientras trabajaba con algunos de los directores prominentes del teatro en Nueva York y El Caribe, como Pablo Cabrera, Victoria Espinosa y Héctor Luis Rivera, entre otros. Compartió escenario junto a Ilka Tania Pagán, Virginia Rambal, Teresa Yenque, Ramón Albino y Luis Caballero, además de ser asesorado por María Torres, una aclamada coreógrafa de Broadway, televisión y cine. Además de su trabajo como actor, a esa edad ya ocupaba varios puestos técnicos, entre ellos, gerente de sala, regidor de escena y asistente de utilería.
Mozoub no es ajeno al mundo empresarial y corporativo. Durante sus 10 años trabajando en Stepping Out Dance Studios, se convirtió en el Gerente de Ventas y Eventos Especiales más joven, supervisando lecciones privadas, alquileres y aspectos de producción de todos los eventos especiales. También pasó casi 15 años trabajando para la cadena de hoteles Marriott International, encargado de la industria del entretenimiento y el deporte, donde ocupó varios puestos gerenciales como Gerente de Operaciones y Gerente Senior de Ventas, entre otros. Sus clientes incluyeron ESPN, Disney, Felt Entertainment, MLB, Sony, NBA, WWE, MLS y la NFL.
Edgar es actualmente el editor en jefe de Arte NY, una revista bilingüe en línea dedicada a las artes para y por Latinx en Nueva York. También es el fundador y director artístico del galardonado Grupo de las Artes (GOTA), un colectivo de artes escénicas y visuales, dedicado a destacar los muchos talentos artísticos de sus miembros.
"A partir del 1 de septiembre de 2021, el Sr. Mozoub asumirá el cargo de Gerente General. El Sr. Mozoub ha sido el Gerente de Producción y Director Técnico de SEA durante los últimos años. Desde sus inicios en SEA, ha demostrado ser un líder valioso y eficaz. Somos muy afortunados de tenerlo en nuestro equipo. Le irá bien en este nuevo rol de liderazgo." Declaró el Dr. Manuel Morán, Fundador y CEO.
"Estoy contento y emocionado de asumir este nuevo rol, donde espero hacer avanzar la visión y misión de SEA. Estoy listo para este nuevo desafío. " Concluyó el Sr. Mozoub.