The Society of the Educational Arts, Inc./Teatro SEA and CEO & Artistic Director, Dr. Manuel A. Morán, are pleased to announce the 2021 Fall / Winter SEAson, kicking off Thursday, October 14th with the opening of our brand new performance venue Punto SEA!
After an exciting summer that included our 2nd edition of the International Puppet Fringe Festival, we're delighted to present you with a SEAson filled with new programming on a smaller scale, including our brand new "Cabaret Series" in October and the world premiere of Sueño de Reyes / Dream of Kings in December. In addition we will also present our latest iteration of MICRO THEATER under the theme "Lockdown".
As the holiday season nears, we will host our 16th annual BORIMIX: Puerto Rico Fest – NYC's Puerto Rican/Latinx cultural landmark event – which features an array of events that include panels, films, theatre, music and the visual arts. In co-production with Teatro LATEA and our home, The Clemente, these events highlight the impact of Puerto Rican identity and arts & culture within the City, Nation, and Hemisphere, as it intersects with other Latinx identities. This year's edition is dedicated to the 500 years of San Juan.
We hope to see you at one of our events this 2021 Fall/Winter SEAson!
Check out more information below regarding each production
or visit TeatroSEA.org to learn more!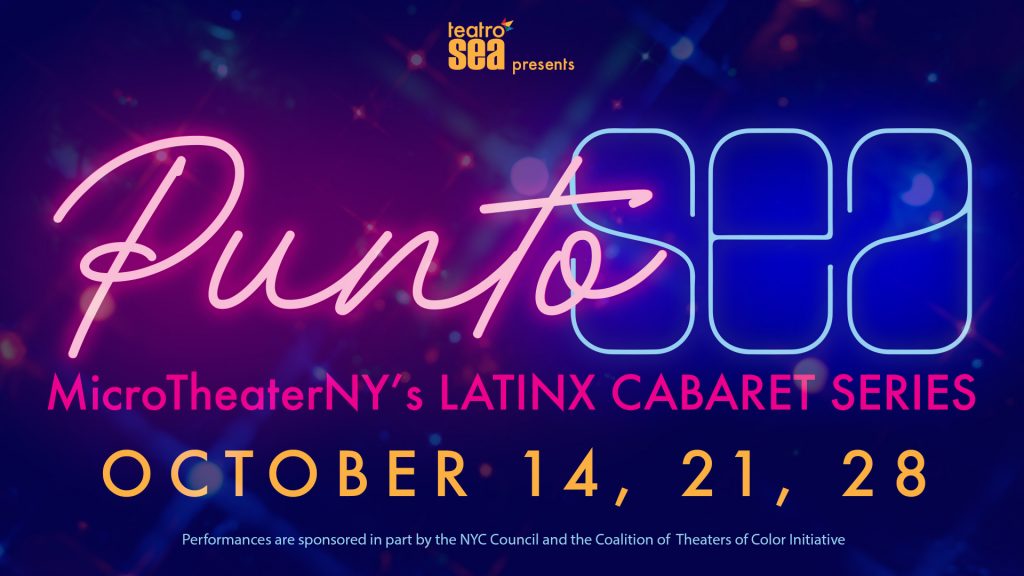 Punto SEA is a new intimate venue within Teatro SEA. This new space will be dedicated to a brand new cabaret series part of MicroTheaterNY.
Every Thursday (8-11pm), starting October 14th we will be hosting different Latinx acts (no more than 3 performers), cabaret, burlesque, poetry, music, performance art and stand-up. Punto SEA will be a flexible space with capacity for 25-35 people, a full bar and food offerings from our own Celebrity Chefs, Anibal & Cristobal!
Our inaugural season line-up is as follow:
October 14 – Jeannie Sol, Lights, Camera, Action!
October 21 – Ximena Ibarra & Alex Bautista
October 28 – Emilio Teubal New Post Trio

MicroTheaterNY's Cabaret Series
Doors open at 6:30 pm Performances start at 8:00 pm
October 14, 21, 28
November 11
December 9, 16, 23 and 30
Borimix
November 11 – 30
MicroTheater NY
November 19-21
Stay tuned for a list of selected plays. ​​MICROTEATRO is a theatrical format, which consists of the presentation of micro works lasting 15-20 minutes, for a maximum number of 15 spectators per show (in its original in person format), represented in small alternative spaces a maximum of 5 times per night. In its virtual version, each work will be presented only once on our social networks.
Sueño de Reyes / Dream of Kings
December 3, 4, 11, 18
January 6 & 8